Best Places to Study on Campus
Published: Monday, 20 September 2021
Written by Alicia Casey, ASI Communications Assistant
With the fall semester in full swing, you need good study spots. Now that campus has re-opened, whether you are an online or in-person student, you have the option to take advantage of campus resources. Let us help you in finding a studying atmosphere that best suits your style. What are you waiting for? Check out ASI's recommendations now!
Reminder: Before coming to campus, you must take the COVID-19 pre-screen. The pre-screen can be taken through your student Single Sign-On account. To enter the campus and the facilities, you must show the green checkmark from your COVID-19 pre-screen. You may be asked to show your green checkmark at any time while you are on campus. You must also follow campus COVID-19 protocols at all times. For an overview of university COVID-19 protocols, visit csulb.edu/covid-19.
University Library Floors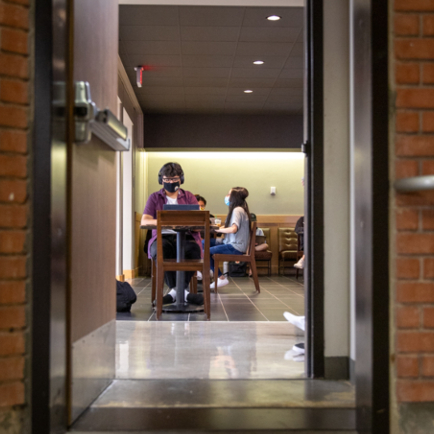 The University Library is a laid-back location with a lot to offer. Start on the first floor and grab a snack and drink at the Caffeine Lab, then make your way to one of the study floors. The basement is ideal for a relaxed groupwork session. The first floor has computers and printers available if you need them, and the second floor caters to a silent study hour. The third floor provides the opportunity to discuss topics from classes with fellow students, and the fourth floor is quiet, much like the second floor. Finally, the fifth floor has cubicles, long tables, and large whiteboards perfect for group studying.
Student Success Center Group and Individual Spaces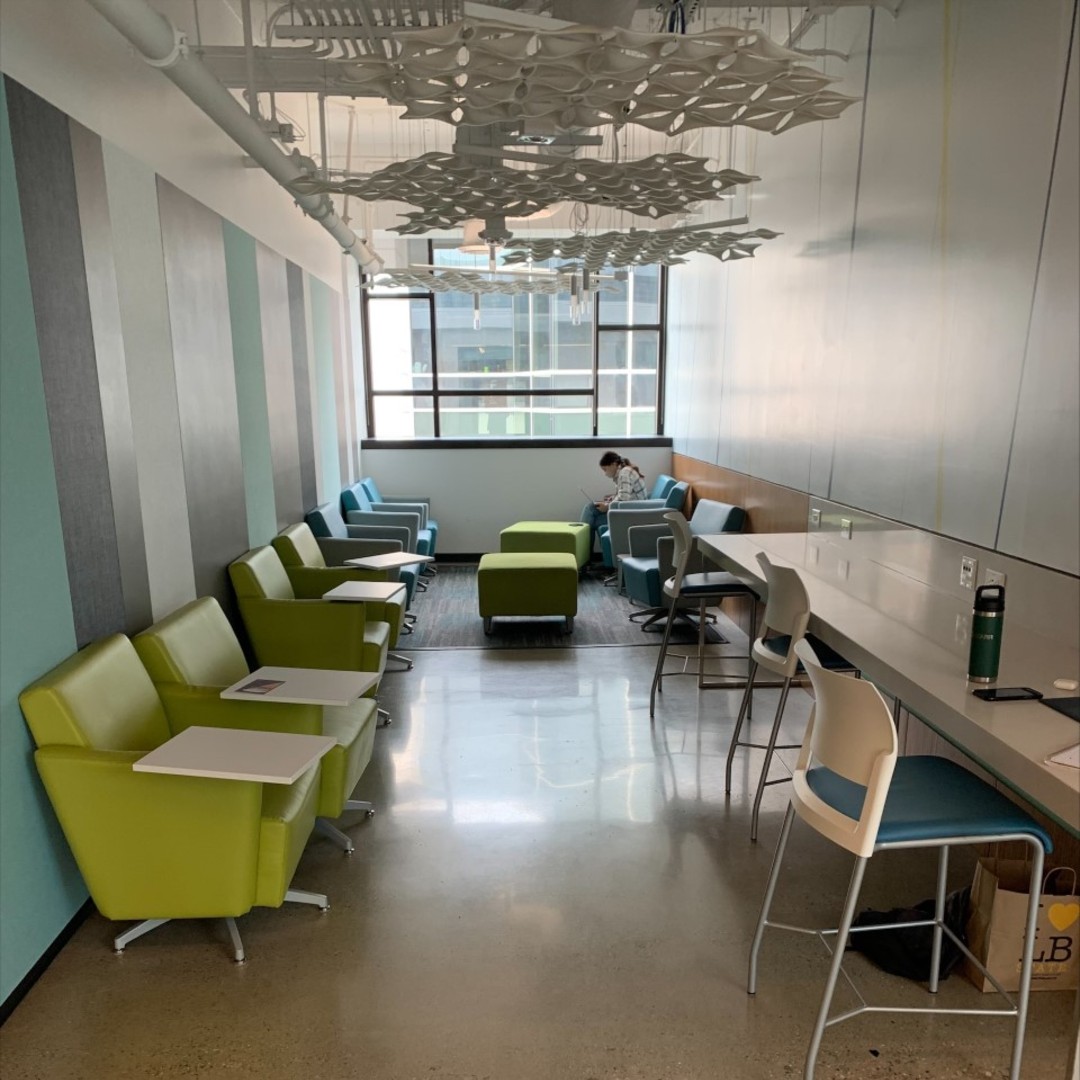 A short walk away from the library is the Student Success Center (SSC). The SSC has a wide selection of indoor study rooms. There are floors lined with colorful couches, wall-facing desks, and group study rooms. Make sure to research the facility online before you go to see which floor and study area will work best for you. Specific rooms will give different views of campus, varied seating options and study resources. Group study rooms usually have large whiteboards, communal desks, charging ports and couches. The SSC also houses the Bob Murphy Access Center, Equal Opportunity Program, Dream Success Center, Learning Assistance Center and more.
USU Lounges and Conference Rooms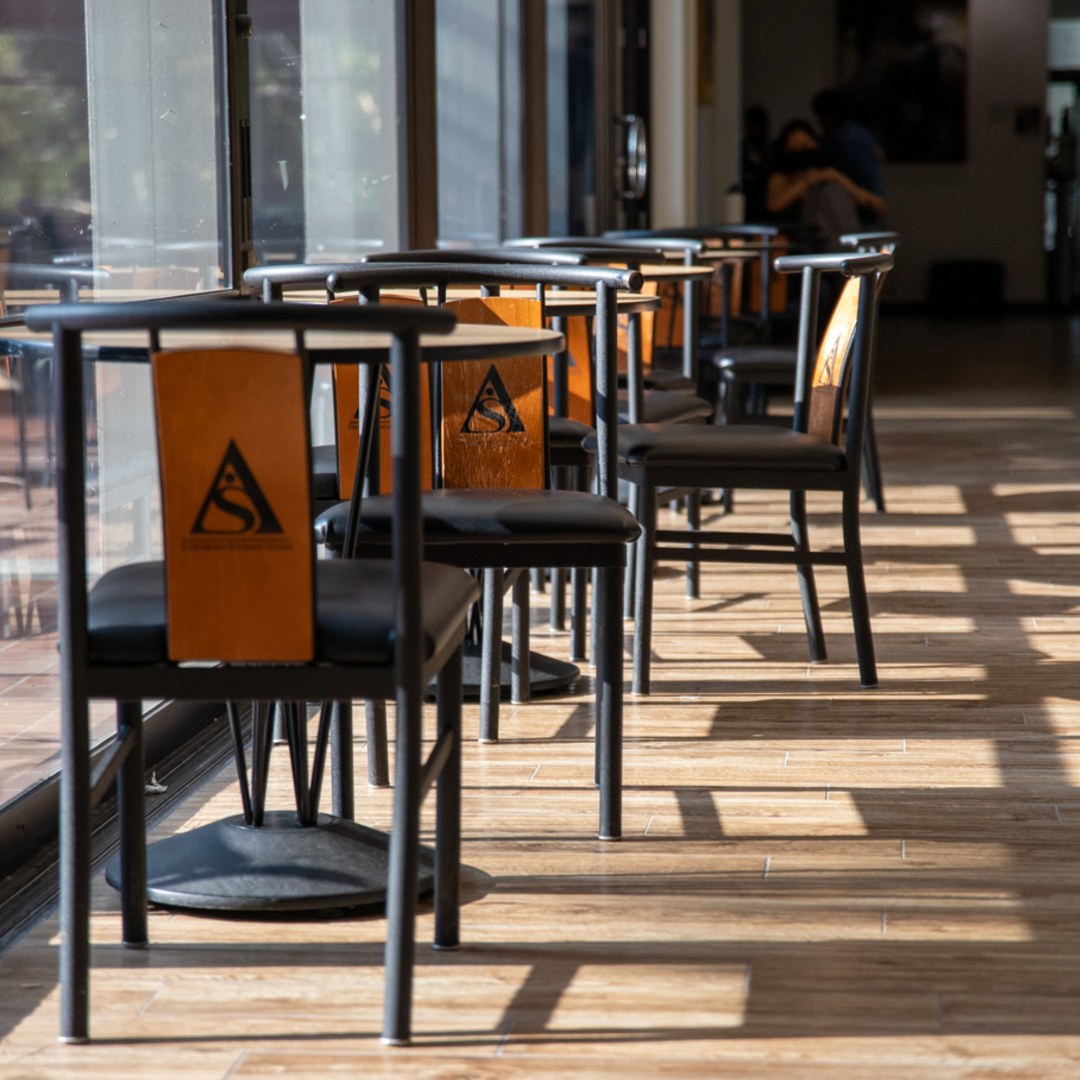 Check out the array of options in the University Student Union (USU). The first floor has the Sticks Lounge where students can study with the backdrop of a gaming area. There is also the art gallery area with tables, couches and charging ports on the first floor. Moving on, the second floor has the food court, Sunset Lounge couches and seating areas by Coffee Bean and Tea Leaf. These spaces are close to fast food restaurants and restrooms. On the third floor are conference rooms that can be used as group study spaces. Look for signs on the doors of these rooms to see when they are available for use. And if you get hungry while studying drop by the Beach Pantry in USU 116 for free food. The Pantry is open on weekdays and Saturdays by appointment.
SRWC Tables, Chairs and Couches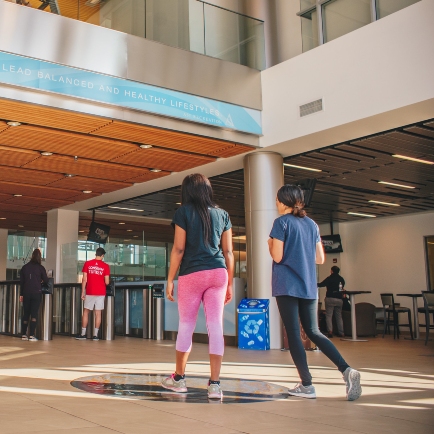 Did you know that the Student Recreation and Wellness Center (SRWC) has indoor study spaces? Head over to this area if you are looking for a positive environment and motivating ambiance to study in. There is a seating area to the right of the entrance by Robeks. It has tables, chairs and cozy couches to relax in. Fuel up with a Robeks smoothie and get inspired by all the driven individuals in the facility. Stop by the SRWC for your next study session and you can even take a break to work out while you are at it!
USU Courtyards and Terraces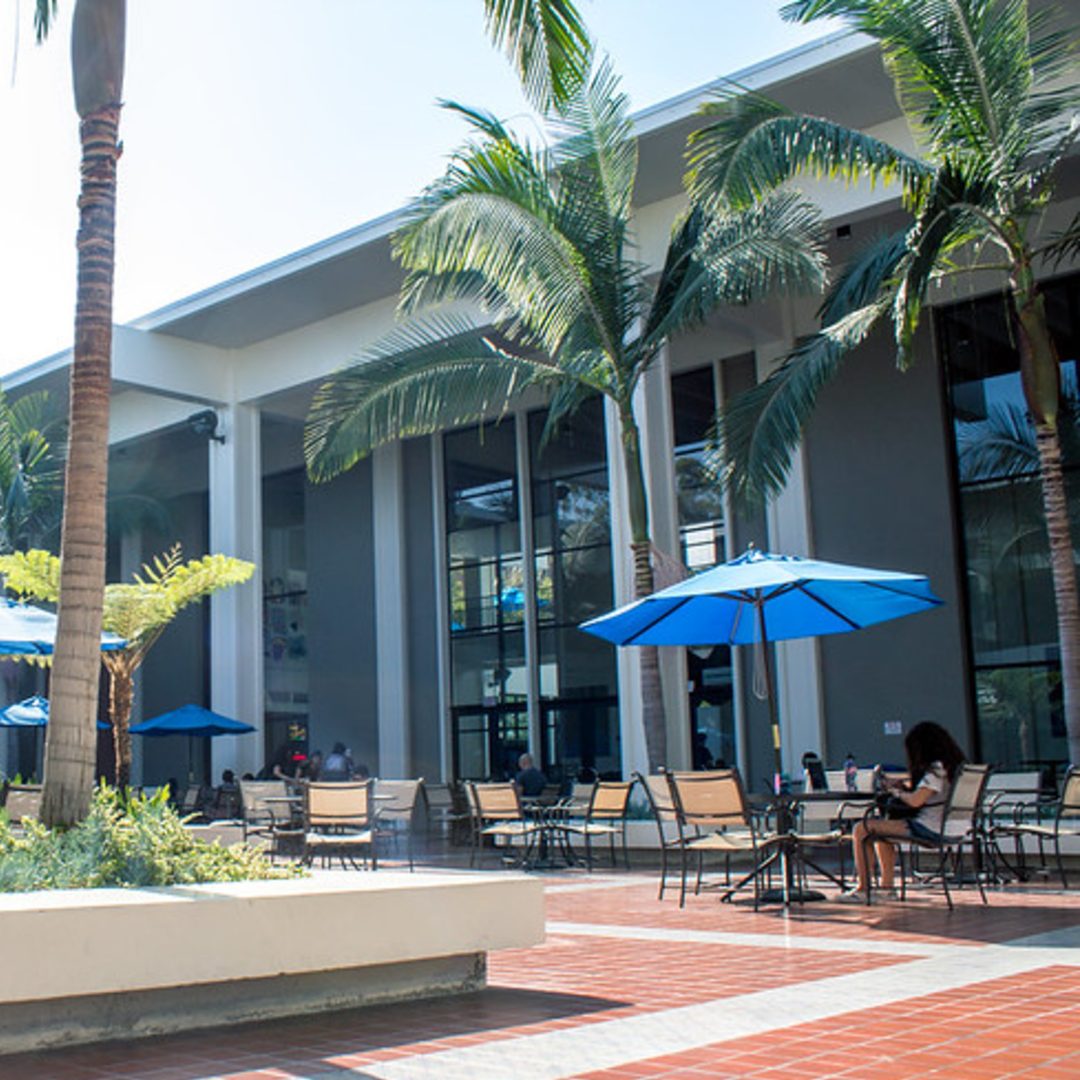 The USU also has a variety of outdoor study spaces to choose from. The second floor has seating areas in the Center Courtyard and the South Plaza. Each area has tables with blue umbrellas for students. Enjoy good lighting for online classes and being next to campus eateries. The third floor has study spots on the Southeast and Southwest Terraces. Both have a selection of spread-out tables, black solar umbrellas and charging ports for devices. Take in the natural air, soak in the sun, and enjoy the view of students walking to and from classes. The internet has also been upgraded on the third floor to allow for improved connectivity throughout the area.
University Lawn Areas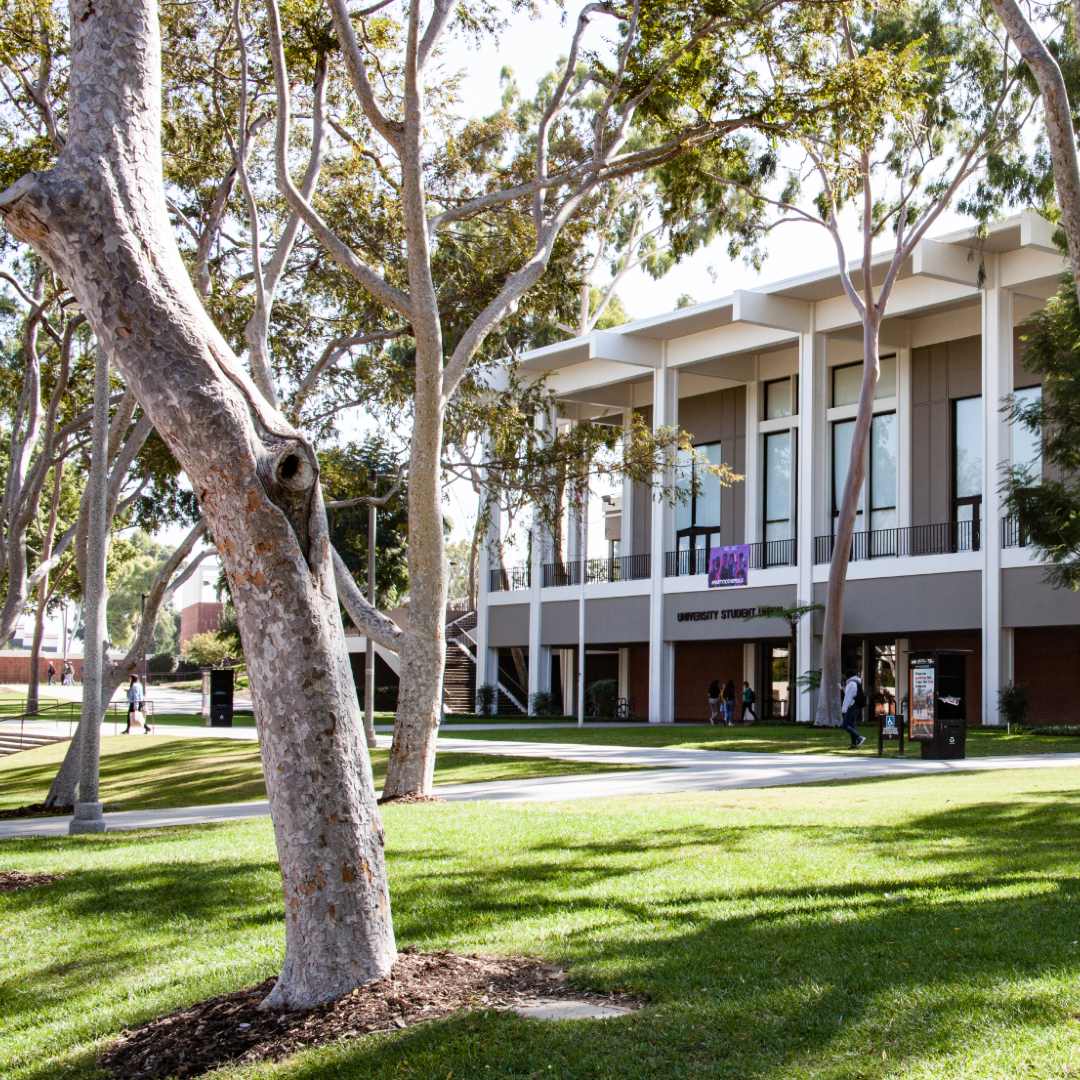 Maybe you want to study lying down. Grab a towel or picnic blanket and head over to the USU North Lawn and have a lowkey study session. Also, enjoy the ambiance of the Friendship Walk. Make yourself comfortable and absorb the white noise of passersby on the steps, cars driving by and the campus squirrels running to and from the trees. Another great lawn study spot is the grassy area between the Arts Buildings and Liberal Arts Buildings. Find a shady spot underneath a tree and get comfortable. Watch as students bike by, or faculty walk their dogs down the cement paths. On special occasions, you might catch a student organization advertising for an event, or a campus sponsor giving out free items to students.
The "Sandbox" at The Beach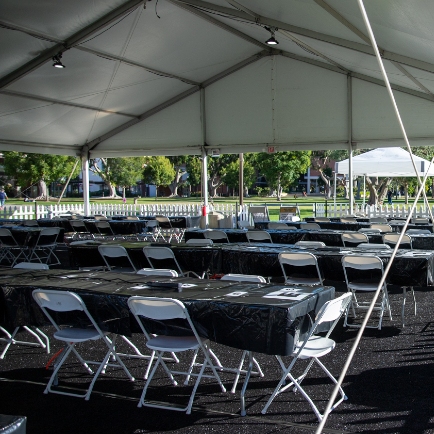 A new study spot is officially on campus! It is an open-air tent with lighting, ceiling fans, ADA seating and free Wi-Fi. The tent has seating for up to 120 students. Before entering the study space, students must show their COVID-19 prescreen green checkmark. The space is available at designated times for studying and club meetings. Study hours are 8 a.m. to 4 p.m., Monday through Thursday, and 8 a.m. to 2 p.m. on Fridays. To reserve the space for club meetings, call the campus events office at 562-985-5205.
Outpost Outdoor Seating Areas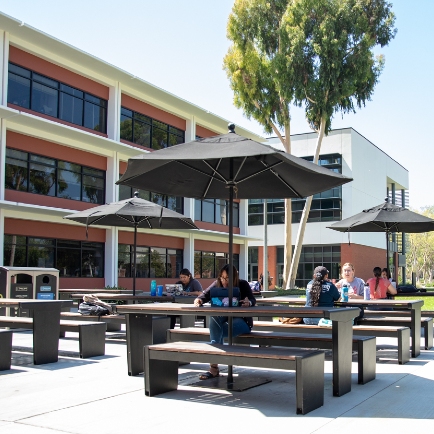 Outpost is a location with a lot to offer. It houses the Outpost Grill, a popular eatery at The Beach. There is also an Outpost Convenience Store located directly next to the restaurant, along with vending machines where you can buy snacks. It is located next to the Social Science and Public Affairs Building, across from the Vivian Engineering Center. Find a seat outdoors, or on the vast lawn area and enjoy the lively environment. If you are looking to order from the Outpost Grill, you can order in-person, or on your mobile device using the Grubhub app.
---
Which study spot will you choose? Our advice: Take some time this semester to try out each one! Find which location works best for your unique studying needs. Before you go, make sure to check out the USU floor map and campus map to visualize the locations mentioned above. Also, take a look at the campus eateries and shops. Good luck in your studies!